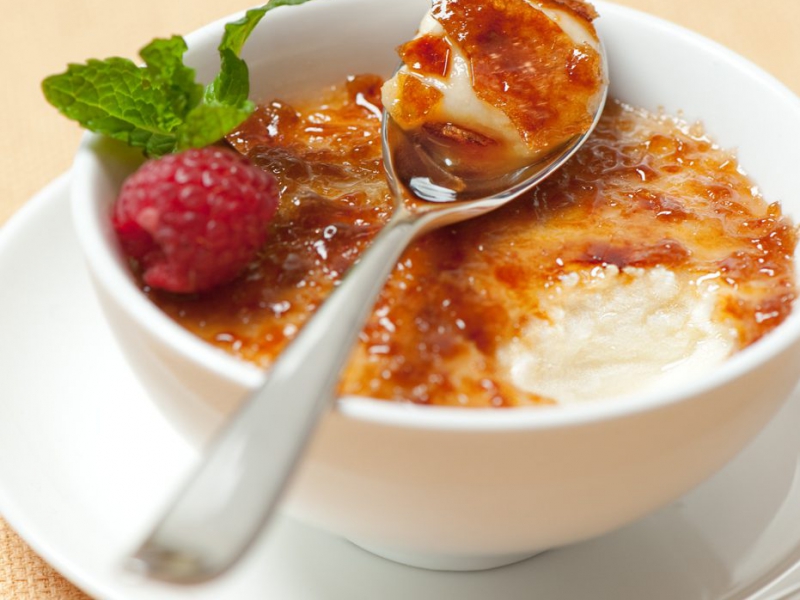 Directions
The Finest Crème Brulée with Fresh Raspberries
Just like the classic Italian dessert, this Crème Brulée is sure to have everyone's mouth watering and begging for more. The sweet taste of the ricotta is a perfect match with the slight bitterness of the raspberries. Finalize this recipe with a perfect brown sugar crust.
Mix the ricotta cheese and sugar in a bowl and set aside (You can replace sugar with a sweetener if desired.)
Divide the berries into the base of each ramekin dish.
Fill to the top with ricotta cheese and cover each dish with brown sugar.
Place under the broiler, or use a kitchen torch to heat until the sugar bubbles and caramelizes. Serve immediately
Tips
Add some flavor to this by adding 1 tablespoon of your favorite liqueur. A common liqueur of choice is an orange liqueur, Grand Marnier. This will not only a small twist to an already fantastic dish, but will also add a hint of orange scent.
The best way to fill the ramekins evenly and accurately is to put the mixture into a pitcher. The best crème brulée starts with the perfect amount ricotta mixture in the ramekin.
Search among more than 200 recipes!