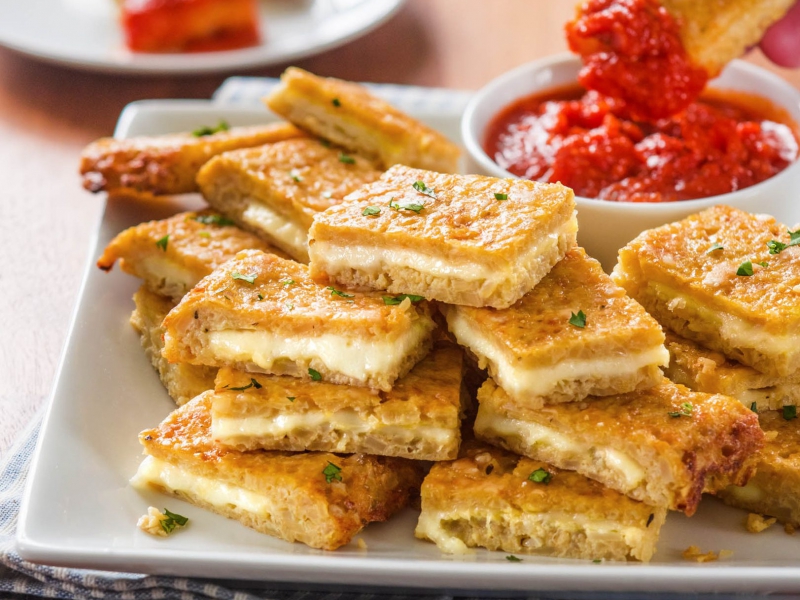 Directions
Preheat the oven to 475 degrees F. Line a rimmed 9 x 13 baking sheet with parchment and coat with cooking spray.
Add the cauliflower florets and garlic to a food processor and pulse until cauliflower is ground.
Pour into mixing bowl; add Italian seasoning, red pepper, eggs, 1/2 cup parmesan, 1/2 teaspoon salt and pepper.
Mix until you have a doughy consistency.
Spread ½ the cauliflower mixture onto the baking sheet about a 1/4 inch thick.
Using the mozzarella cheese slices cover the entire surface of the cauliflower mixture, leaving the some space along the edges of the pan.
Spread the remaining cauliflower mixture over the slices of cheese creating a second layer of cauliflower mixture. Let mixture touch on the outside rim to seal in cheese.
Bake until the crust turns golden brown all over, 20-35 min.
Remove the pan from the oven and lay another piece of parchment on top of the crust. Place a second pan on top so the bottom of the baking sheet is touching the parchment. Using oven mitts hold the 2 baking sheets together and flip.
Peel off the first parchment from the crust, cut the crust into 1 1/2-inch-thick strips (or squares for bite size snacks) and spread the breadsticks out so they are not touching. Sprinkle with remaining 1/2 cup parmesan.
Bake the breadsticks for a second time, around 10-15 minutes or until the cheese is melted.
Let cool for 5 minutes, serve with the marinara sauce for dipping.
Search among more than 200 recipes!