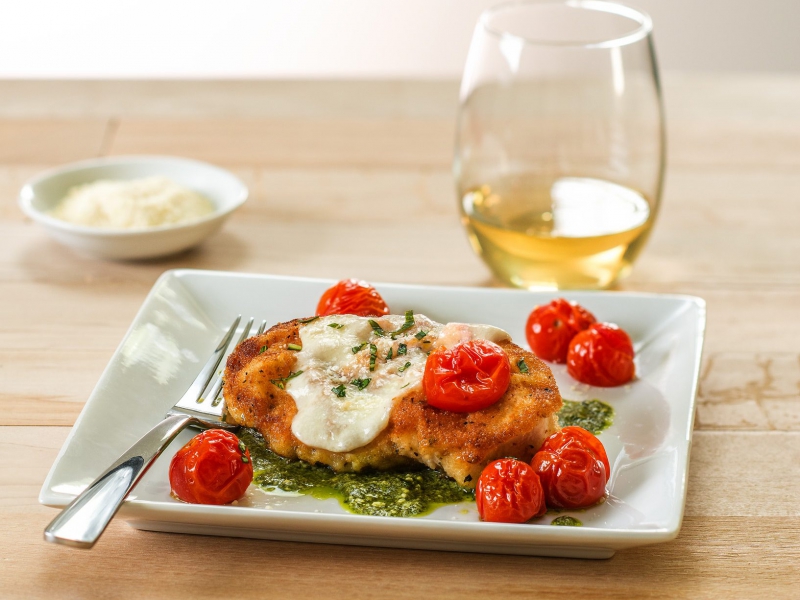 Directions
Two Italian Classics in One: Chicken Parmesan and Fresh Mozzarella Caprese
There is nothing better than great chicken parmesan. This recipe features a tender, juicy piece of chicken paired with juicy cherry tomatoes and creamy melted fresh mozzarella. This is sure to be everyone's new favorite meal.
Preheat oven to 350 degrees F
In a large frying pan, add 1-1/2 cups olive oil and heat to medium-high heat.
In 3 separate bowls, place flour in one, milk and egg whisked together in one and bread crumbs in one.
Dredge the chicken in the flour, then milk- egg mixture, and then the bread crumbs. Add chicken to frying pan, brown one side and then the other side.
Transfer chicken breasts to a baking sheet. Place 2 slices of fresh mozzarella on top of each piece of chicken.
Toss whole cherry tomatoes in 1/2 cup olive oil and place on same sheet as chicken to roast.
Place in oven at 350 degrees F for 10-15 minutes until chicken is fully cooked and cheese is melted.
Place basil leaves and remaining oil in a blender or food processor and blend until smooth to make the pesto sauce. Spread pesto in the center of the plate, about 1 tablespoon per dish.
Add a chicken breast to each plate and top with roasted cherry tomatoes.
Tips
For the juiciest, most tender chicken, be sure to pound the chicken to make thinner.
Search among more than 200 recipes!