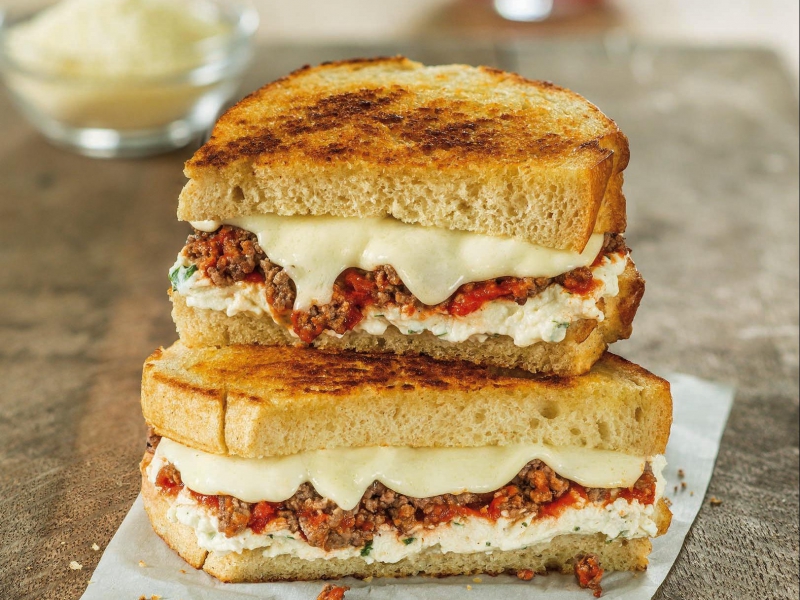 Directions
The Best Lasagna Sandwich Around
A creative way to enjoy two classic dishes at the same time, in a way that the whole family with love.
In a mixing bowl combine ricotta, 1 Tbsp. parmesan, black pepper, garlic and basil. Set aside.
Heat a large skillet over medium-high heat. Cook and stir the ground beef until it is completely browned, approximately 7-10 min.
Drain and mix with 10oz. of tomato sauce.
Lay out bread, butter one side and dust with garlic powder and remaining parmesan.
On the non-buttered side of 4 pieces spread the ricotta mixture (about 1-2 Tbsp. on each piece), layer the ground beef mixture on the ricotta, followed by the slices of mozzarella. Top sandwiches with the remaining 4 slices.
Move to a preheated pan on medium heat and cook for approximately 90 seconds, pressing down with a spatula. Flip and repeat until golden brown.
Remove, cut and serve with remaining tomato sauce to dip or cover sandwich.
Tips
The best sandwiches are cooked low and slow. Make a grilled cheese sandwich over medium-low heat for an evenly cooked, perfectly melted grilled cheese.
Crisp, Not Burnt. Create the perfect crispy crust by spreading mayonnaise across the bread, as opposed to butter, followed by toasting it for 2-3 minutes. Create a mixture of 3 tablespoons of Mayonnaise and 1/8 teaspoon of onion powder. Mayonnaise can be swapped out for butter because it creates a crisp sandwich, while preventing the sandwich from sticking to the pan and it doesn't burn as easy.
Search among more than 200 recipes!