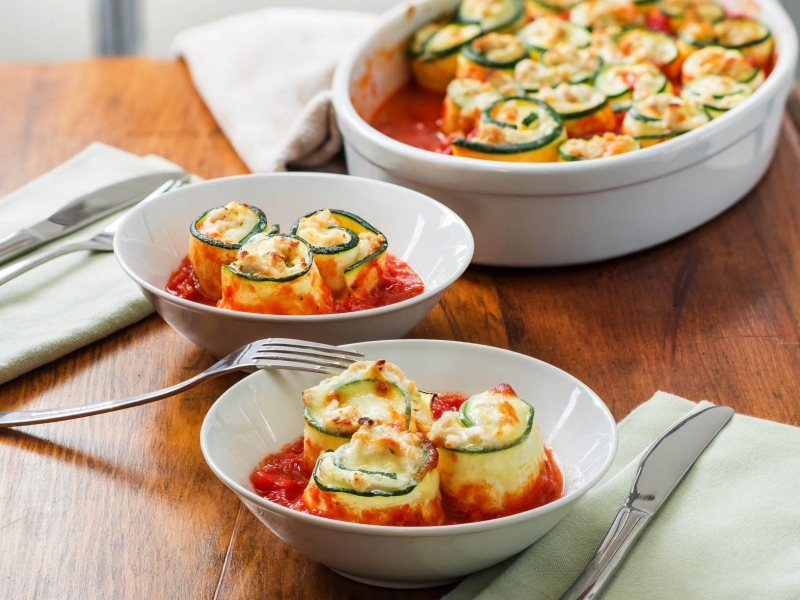 Directions
Preheat oven to 400 degrees.
Using a mandolin or knife, trim off the ends of the zucchini and cut lengthwise into 1/8 inch thick slices (20-24 slices). Lay zucchini flat and sprinkle with salt. Let sit for at least 15 minutes.
After 15 minutes, pat zucchini with paper towel to remove moisture.
In a large skillet over medium heat combine oil, crushed garlic, and onion. Sauté for 2-3 minutes. Add ground turkey and cook until completely cooked through.
Pour 1 cup marinara sauce into the bottom of a 9-inch square baking dish.
In a medium bowl combine ricotta, Parmesan cheese, egg, Italian seasonings, salt and pepper. Combine with the ground turkey mixture and stir until combined.
Place a half a slice of cheese on top of each strip of zucchini. Place 1 Tbsp. of the turkey & cheese mixture at top end of a zucchini slice. Roll zucchini slice up and place in a 9-inch square baking dish. Repeat with remaining cheese mixture and zucchini slices.
Pour remaining 1/2 cup marinara sauce over the roll-ups.
Bake in preheated oven for 25-30 minutes.
Optional- Prior to baking use 1/2 cup of shredded mozzarella to sprinkle over the top of the roll-ups.
Search among more than 200 recipes!