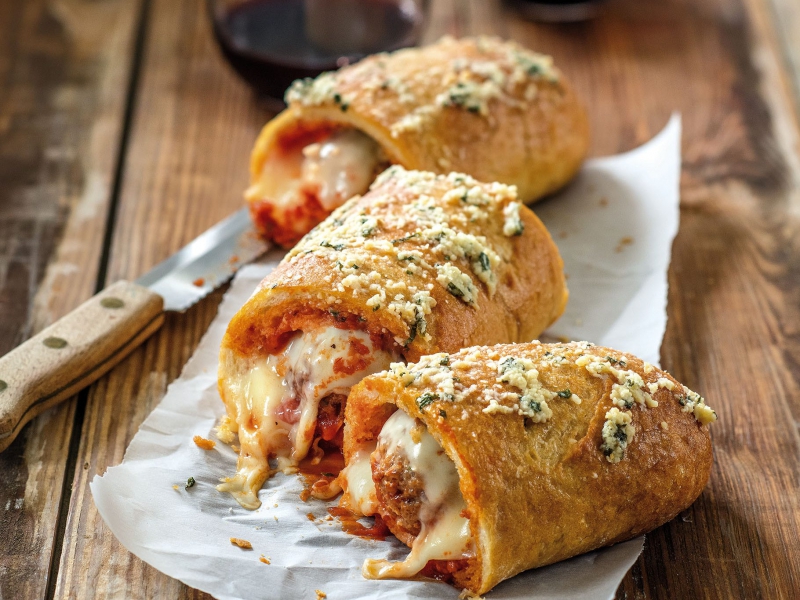 Directions
Meatballs: Combine beef, garlic, eggs, cheese, parsley and salt and pepper. Mix well.
Blend in bread crumbs. Mix together. Add water slowly, for extra moisture.
Shape into meatballs. About 2 inches in diameter.
Heat olive oil in a skillet and add meatballs.
Brown the sides and then reduce heat to low. Cover and let the meatballs cook thoroughly.
Meanwhile, prepare olive oil topping by combining the topping ingredients; olive oil, garlic, parmesan cheese, kosher salt and freshly chopped basil. Set aside.
Assembling the sub: use a cutting board to vertically slice the bread into 6" portions, not horizontally.
Carefully, with your fingers remove the inside of the bread, hollowing out the 6" section.
Start by putting a tbsp. or more of marinara sauce inside the hollowed bread. Making sure that every side is covered.
Next, add a couple of slices of cheese; overlapping them. Put 2 meatballs on the cheese. Roll the meatballs up in the cheese.
Place into the hollowed-out section of the bread. Do this for all the sections.
Line a baking sheet with a piece of aluminum foil. Carefully put the stuffed bread onto the foil and baking sheet, placing all sections back together, resembling a whole sub.
Drizzle with the prepared olive oil/cheese topping. Wrap the sub in the aluminum foil.
Search among more than 200 recipes!