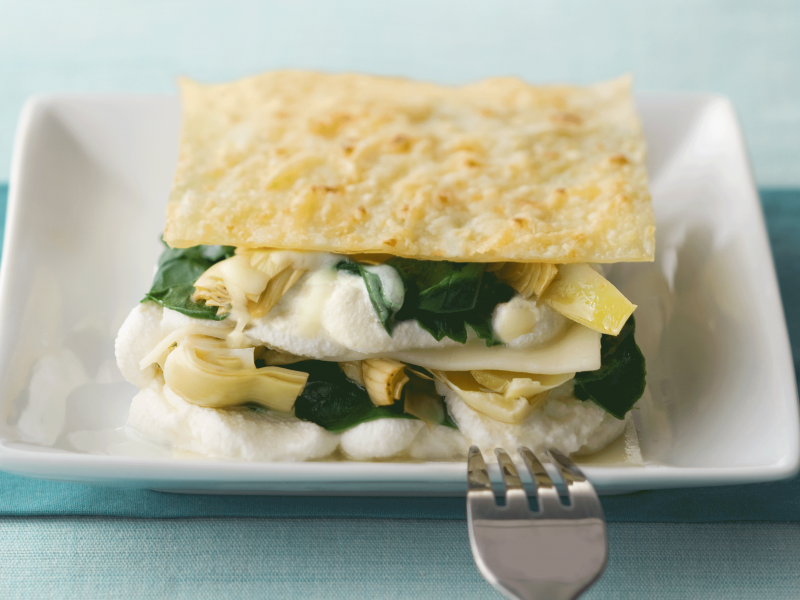 Directions
Deliciously Fresh Spinach and Artichoke Lasagna with Smooth Ricotta and Mozzarella Cheese
Spinach and artichoke form the perfect compliment in this rendition of the classic Italian lasagna. This lasagna will definitely have people going up for seconds.
Preheat oven to 400 degrees F.
Mix ricotta and egg in a small bowl. Season with salt and pepper.
Sauté the onions in the oil in a large sauté pan on medium heat until translucent, about 5 minutes. Add the spinach and season with salt and pepper.
Spray a 13×9-inch baking dish with cooking spray. Spread 1 and half cups béchamel on bottom of pan and top with 4 sheets lasagna noodles.
Layer with H of the ricotta, half of the spinach mixture, half of the artichokes, 1 cup béchamel, half of the mozzarella, and half cup of the parmesan.
Continue layering with 4 more noodles, the rest of the ricotta, spinach mixture, artichokes, mozzarella, 1 cup of béchamel, and half cup more of parmesan.
Finish with the last layer of noodles, 1 cup of béchamel, and ½ cup of parmesan.
Cover with parchment and then aluminum foil. Bake for 40 minutes until slightly bubbling. Remove foil and parchment and continue to bake until top is browned, about 10 minutes more. Cool 10 minutes before serving to allow lasagna to set up.
Tips
Optional: Serve each slice atop a generous spoonful of our basic tomato sauce
Search among more than 200 recipes!