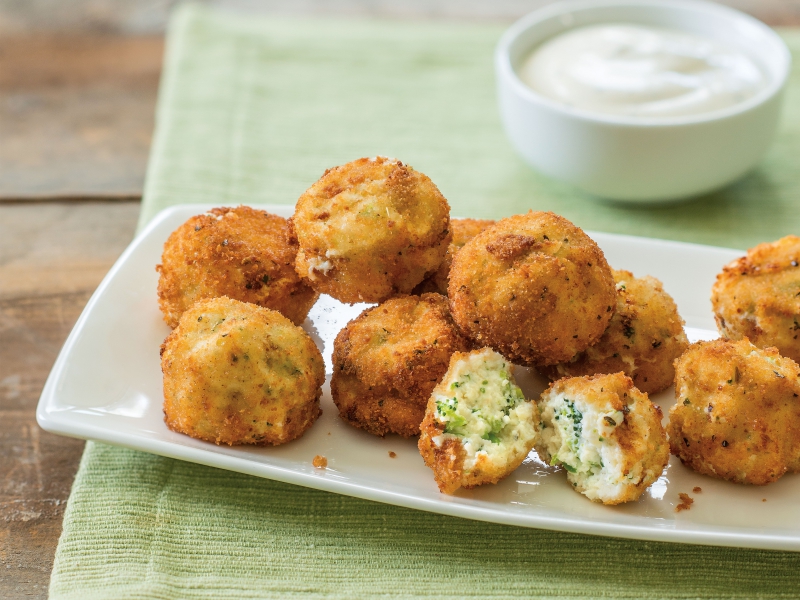 Directions
Add broccoli to lightly salted boiling water and cook for about 2 minutes, until soft. Remove from heat, strain and rinse with cold water.
Finely chop cooked broccoli into small pieces. In a large mixing bowl, combine broccoli, ricotta, mozzarella, Parmesan cheese and slowly stir in 1 cup of bread crumbs.
Once the cheese and broccoli is mixed, scoop out in 1 inch balls and place on a baking sheet.
In a medium bowl, add milk and beat in the egg. Then in a separate bowl, add the rest of the bread crumbs and set aside.
In a large frying pan, heat oil to medium a heat. Start breading the broccoli cheese balls with the egg mix first, and then add to the bread crumbs.
Press the breading down so takes hold and is firm. Carefully add to the hot oil. Cook on one side until brown, then turn and repeat.
Serve right away with a ranch or blue cheese dressing.
Tips
* You can substitute fresh broccoli with 1- 16 oz. package of frozen broccoli florets, defrosted, drained and chopped into small pieces
* Airfryer cooking instructions: Heat to 350 F. Place broccoli ricotta balls on tray and set timer for 12 minutes. Halfway through, turn the balls over. Cook until light golden and crispy.
Search among more than 200 recipes!