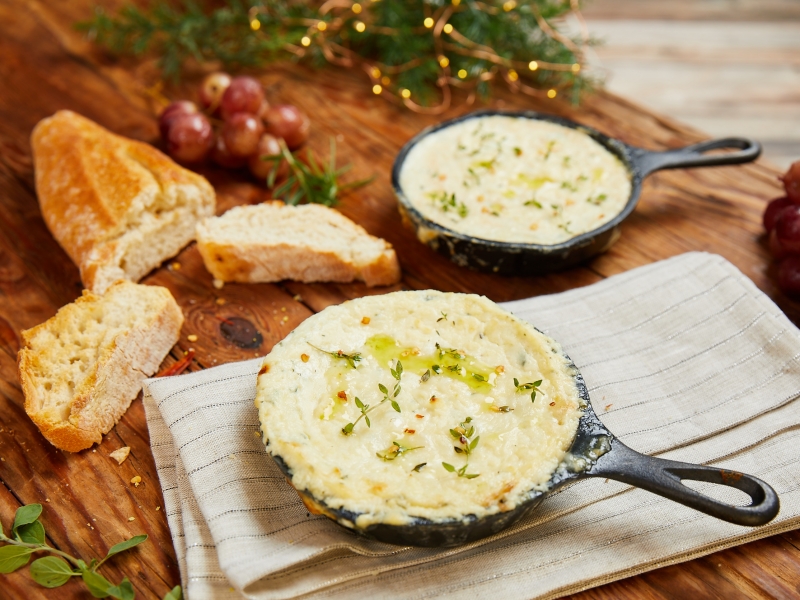 Directions
Preheat oven to 400 degrees F.
Butter two 4 oz. (or one 8 oz.) cast iron (or other oven-safe) ramekins thoroughly.
In a medium-sized mixing bowl, combine ricotta cheese, mozzarella cheese, zest and juice of 1 lemon, minced garlic, thyme, rosemary, and oregano.
Fill ramekins with the cheese mixture. Be sure to wipe the outside lips of the ramekins clean to prevent burning.
Bake uncovered for about 15–20 minutes until the top of the cheese starts to set and lightly brown.
Warm the baguette during the last 5 minutes while the dip is in the oven.
Remove the dip and baguette from the oven. Season the dip with salt and pepper to taste.
Drizzle the dip with extra virgin olive oil, sprinkle with red chili flakes, and garnish with roasted grapes if desired.
Serve with torn pieces of warmed, crusty baguette.
Tips
Chef Donatella Arpaia Tip: Dried herbs are often more concentrated than fresh herbs. So, if you're substituting them with dried herbs in this recipe, cut the measurement to 1 tsp. of each.
Search among more than 200 recipes!