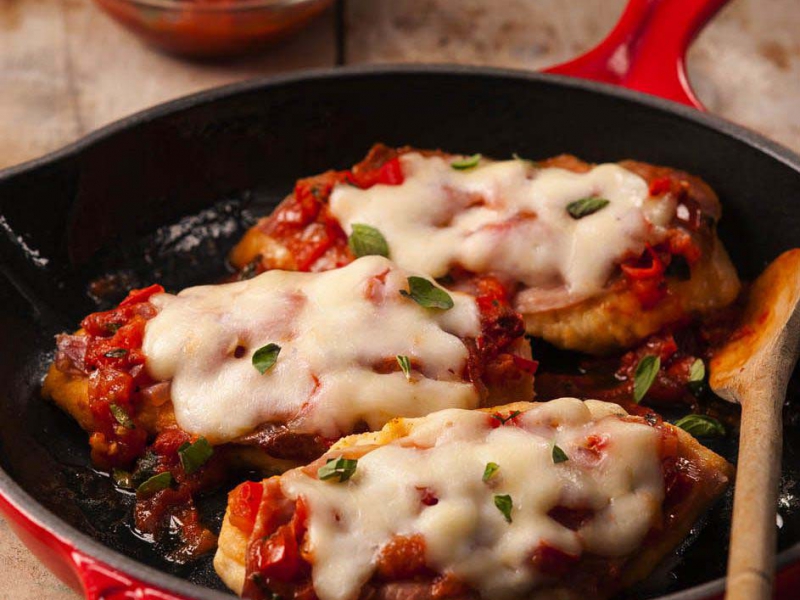 Directions
Deliciously Warm, Zesty Chicken Scallopini
A tender piece of chicken topped with a crisp piece of prosciutto and a savory sauce composed of tomatoes, red onions, and garlic. This dish is sure to be loved by anyone who tries it!
Preheat oven to 375 degrees F.
Heat sauté pan to medium heat, add 1 1/2 cups of olive oil.
Dredge chicken in the flour until lightly coated, add to the hot pan. When chicken gets a golden crust on one side, then flip and place a slice of prosciutto and Galbani® Mozzarella Cheese on each one.
Remove from stove and place in oven until all cheese is melted.
To make the sauce, sauté the garlic and onion in the remaining olive oil and slowly add marsala wine.
Add the chopped tomatoes and bring to a quick boil. Season the sauce with oregano, salt and pepper.
Remove chicken from the oven and place on plate. Top with the sauce and serve.
Tips
Add some Crunch! Instead of coating the chicken in flour, coat them in bread crumbs and cook in a pan over medium-high heat for 3 minutes on each side. (3 minutes a side seems kind of short for chicken. Maybe just say until the chicken is cooked through.)
For more even cheesy flavor, top the dish with some Galbani grated Parmesan cheese
Search among more than 200 recipes!