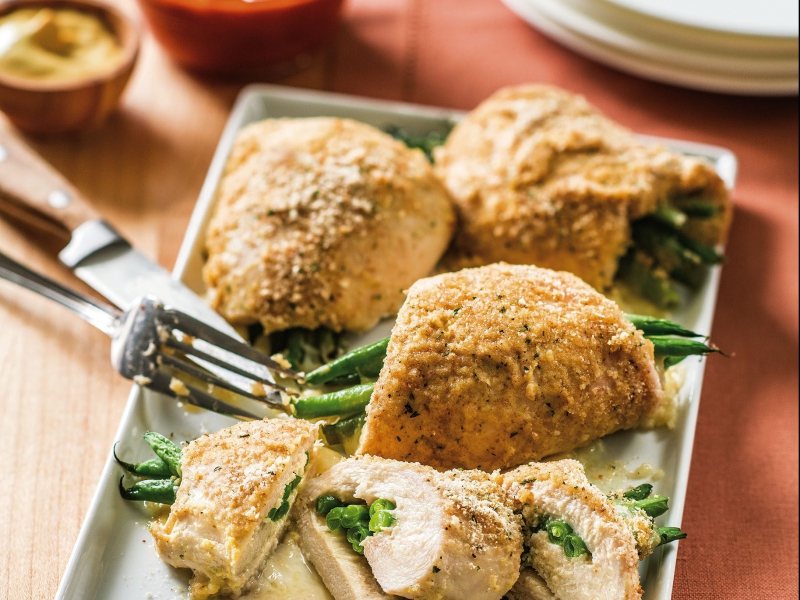 Directions
Thinly slice and pound chicken breast to desired flatness.
Blanche green beans: boil a pot of water, place green beans in boiling water.  Let cook for 2 minutes and then remove from heat.
Using cold water, thoroughly rinse beans to stop them from cooking. Set aside.
In a shallow bowl, combine bread crumbs and grated cheese. Set Aside.
In a different shallow bowl, blend melted butter, mustard, garlic and chicken broth together using a spoon.
Dip the chicken breasts, one at a time, into the mustard mixture, make sure to coat each side.
Place 1 slice of cheese on chicken, followed by 6 green beans on top of cheese; Roll.
Bread the rolled breasts in the crumb mixture, making sure to coat evenly.
Place each rolled chicken breast into a baking dish. Cover dish with foil.
Bake in an oven at 350 degree F for 25 minutes.
Meanwhile, heat a jar of marinara sauce in a pan on the stove, keep warm.
When chicken is done, take out of oven and uncover.
Place chicken back into the oven for 6-8 minutes, or until golden brown. Remove from oven.
Spoon marinara sauce over the top of each rolled chicken breast.
Search among more than 200 recipes!