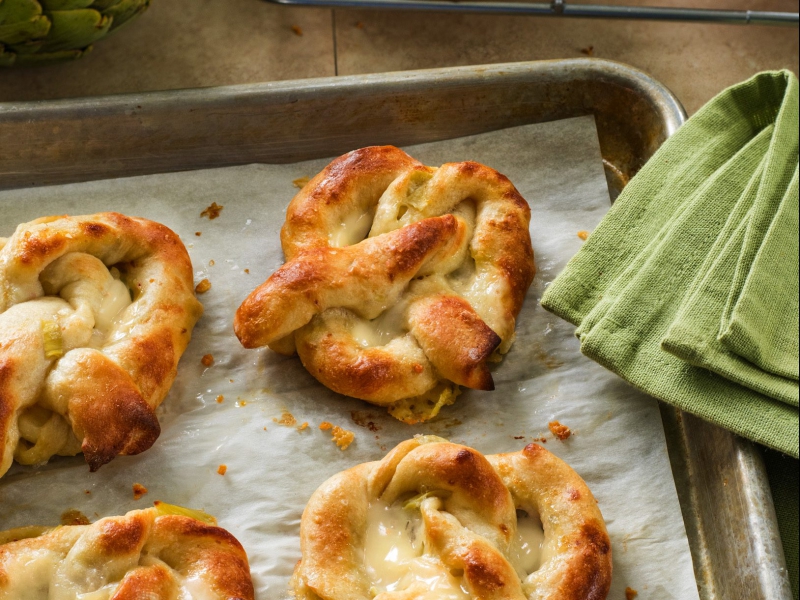 Directions
Preheat oven to 425 degrees.
Prepare dip:  Drain artichokes, chop and place in a bowl. Finely chop spinach, add to bowl. Next add garlic, red pepper flakes, mayo and parmesan cheese.  Mix well and set aside.
Remove sliced cheese from package and separate each slice.  Cut each slice into quarters.
On a lightly floured surface, roll out refrigerated thin crust pizza dough.  Using a rolling pin gently flatten dough to 1/4 inch.  With a knife or pizza cutter, cut dough into 1 1/2 inch strips.
Spoon about 1 Tbsp. artichoke mixture along the center of the strip of dough, spreading the dip along the entire length of the strip.
Tear the quartered pieces of cheese and place along the top of artichoke mixture, making sure to cover the entire strip of dough and artichoke mixture with cheese.
Fold dough over and pinch together.  Gently roll stuffed dough into a cylinder and form into pretzel shape.
Brush pretzels with egg wash and sprinkle with salt.  Place on a baking sheet.
Bake for 20 minutes.  Let cool  5 minutes.
Search among more than 200 recipes!