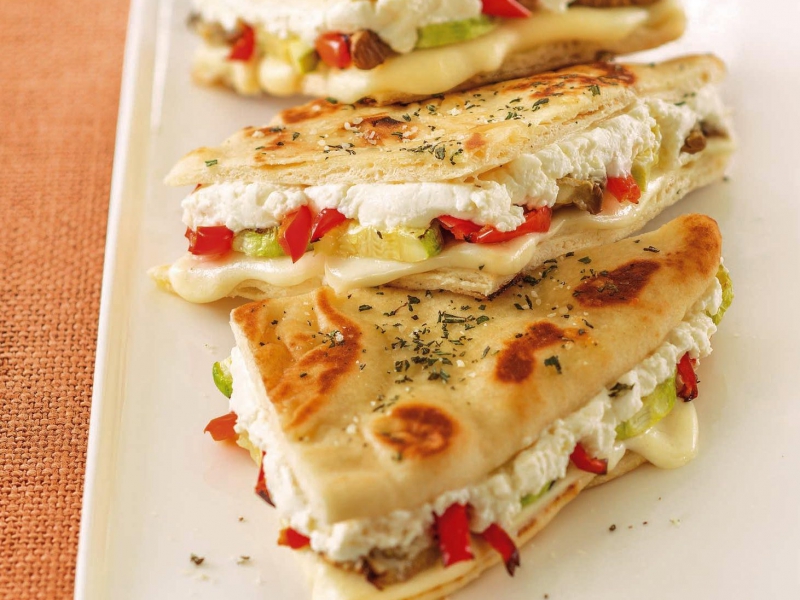 Directions
Pre-heat oven to 375 degrees F.
Peel the eggplant and cut into 1/4 inch slices. Cut peppers and zucchini into 1/4 inch slices. Lay vegetables out on a baking sheet and lightly coat with olive oil. Bake in oven at 375 degrees for 15-20 minutes until softened.
In a mixing bowl, add ricotta, garlic and half of the parmesan and mix with fork until blended. Fold to make ricotta extra fluffy. Set aside.
Lay out the pre-baked pizza crust and lightly coat with remaining olive oil. Sprinkle one side with the chopped rosemary and remaining parmesan. Flip, and on the unseasoned side spread the ricotta mixture. Set aside.
Once vegetables are done, assemble sandwich by placing eggplant, zucchini and peppers on the ricotta half of the crust followed by the mozzarella. Close and place in a preheated skillet or nonstick pan at low to medium heat. Make sure the pan is larger than the crust.
Cook for approximately 90 seconds, pressing down with a spatula. Flip and repeat until the cheese is melted and the pizza crust is golden brown. Remove, cut and serve.
Search among more than 200 recipes!