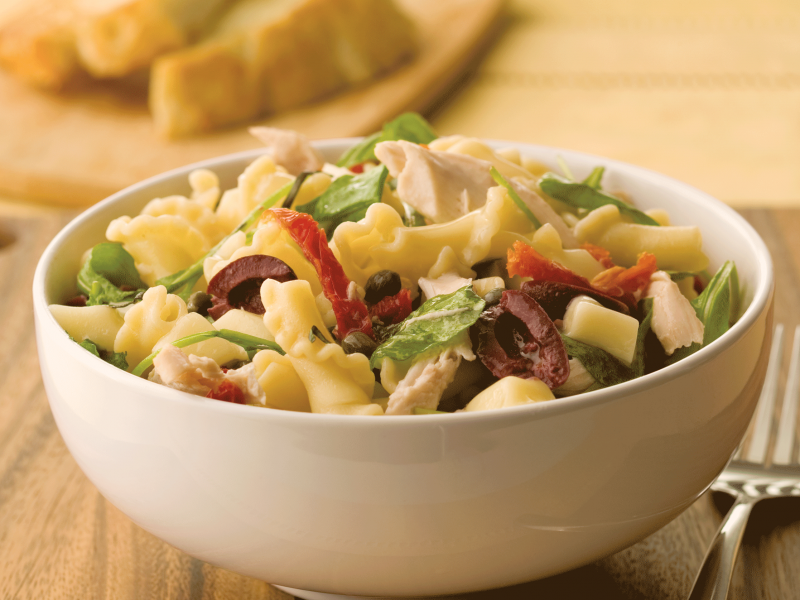 Directions
Creamy and Zesty Campanelle Pasta with Chicken, Roasted Arugula and Garlic
This warm Chicken Pasta salad presents an abundance of flavors that everyone is sure to love. The fresh taste of the olives and tomatoes perfectly compliments the taste of the chicken.
In a large sauté pan, boil the chicken stock on high heat until reduced to 2 cups. Remove from pan and reserve.
Put mozzarella, arugula, tomatoes, and basil in a large mixing bowl. Reserve.
Cook the pasta until al dente. Drain and reserve without rinsing.
Wipe out the sauté pan and cook the oil and garlic on medium heat, stirring constantly until the garlic is toasted, about 5 minutes.
Add the chicken, capers, olives, pasta, and reduced stock to the sauté pan. Heat until warmed through, about 3 minutes.
 Add the entire mixture to the mixing bowl with the other ingredients and toss to coat. Mozzarella will just begin to melt softly.
Tips
Spice it up a little. Finely chop Fresh Thyme and parsley leaves to compliment the chunks of chicken. This will also add some color and a fresh scent to this pasta.
Search among more than 200 recipes!