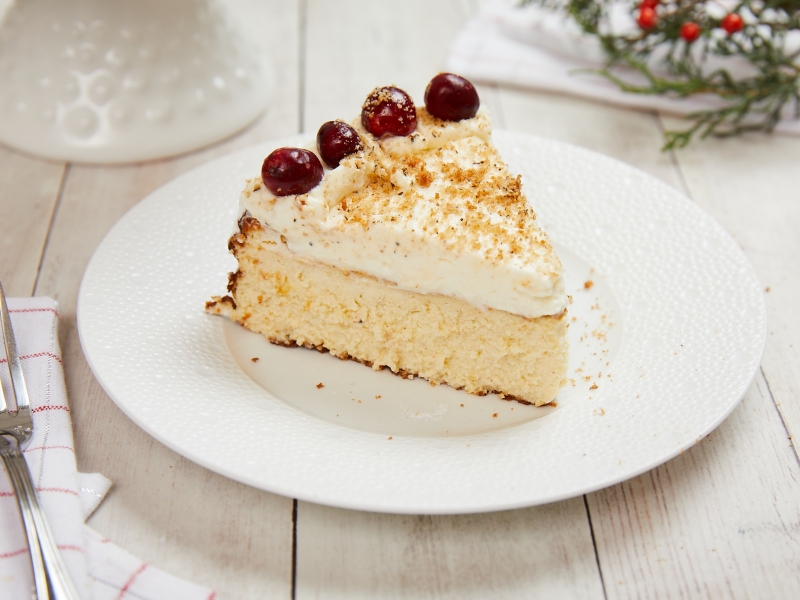 Directions
In the refrigerator, drain ricotta overnight in a colander lined with paper towels or cheese cloth.
Set rack in the middle of the oven. Preheat oven to 350 degrees F
Grease 10" or 12" spring-form pan thoroughly with baking spray or butter.
To prepare the cheesecake batter:
In a large bowl, beat eggs with an electric mixer until light yellow.
Add in granulated sugar, almond flour, 1 tsp. cinnamon, limoncello, lemon juice and zest, and stir until incorporated.
Add in ricotta 1/2 a cup at a time, stirring constantly.
To make the mascarpone cream topping:
In a separate cold bowl, whip heavy cream, vanilla extract, and confectioners' sugar. Slowly add in mascarpone, whipping until the topping becomes stabilized.
Fold 2 large tbsp. mascarpone cream topping into the cake mixture. Place the remainder of mascarpone cream topping in refrigerator.
Pour cake mixture into pan. Sprinkle remaining cinnamon over the top, and swirl through the mixture with a toothpick.
Bake the cake in the oven for about 90 minutes, or until a toothpick comes out clean.
Cool cake on a wire rack. Cover, and chill until ready to serve.
To prepare the cranberries for garnish:
Boil the cranberries gently in water or orange juice with sugar.
Carefully lay the cranberries out individually on a non-stick tray and allow to cool down and harden.
To serve:
Frost the cake with a layer of mascarpone cream topping and decorate with cranberries and cookie crumbles.
Tips
Chef Donatella Arpaia Tip: To make this recipe extra festive, consider dusting the sides of the cheesecake with confectioners' sugar prior to frosting it.
Search among more than 200 recipes!