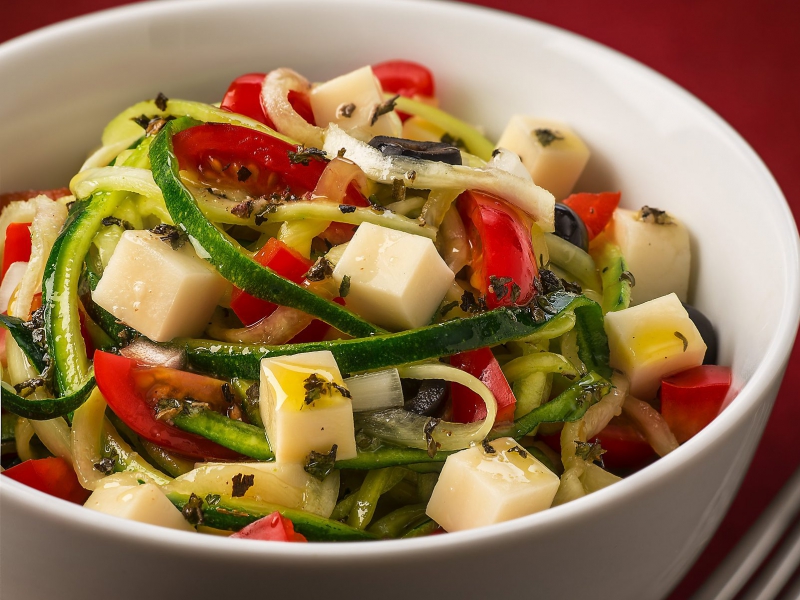 Directions
A Refreshing Summer "Pasta" Salad
A delicious "pasta" salad composed of refreshing zucchini, onions, tomatoes, and peppers. The mixed vegetables, "zoodles", and creamy chunks of mozzarella cheese form a perfect combination. This refreshing "pasta" salad is perfect to compliment any dish.
Spiralize all of the zucchini. If you don't have a spiralizer, you can use your handy dandy julienne peeler to create zucchini noodles. (Just make sure you wash them first and leave the skin on.) Voila, zoodles*!
Place the spiralized zucchini in a colander and toss with salt until the strands are lightly coated.
Allow zucchini to sit for 20-30 minutes to remove excess water. Rinse with running water, drain well, and pat dry with paper towels. (The salt helps drain water from INSIDE the zoodles, and rinsing with water won't negate that.)
Combine cubed cheese, veggies, and garlic with your zoodles.
Finish with your favorite Italian dressing mix well and serve.
Tips
Primal Summer "Pasta" Salad Tips:
To add some extra flavor use some pieces of pepperoni/salami. Chop up some chunks of pepperoni, or salami or both.
Search among more than 200 recipes!