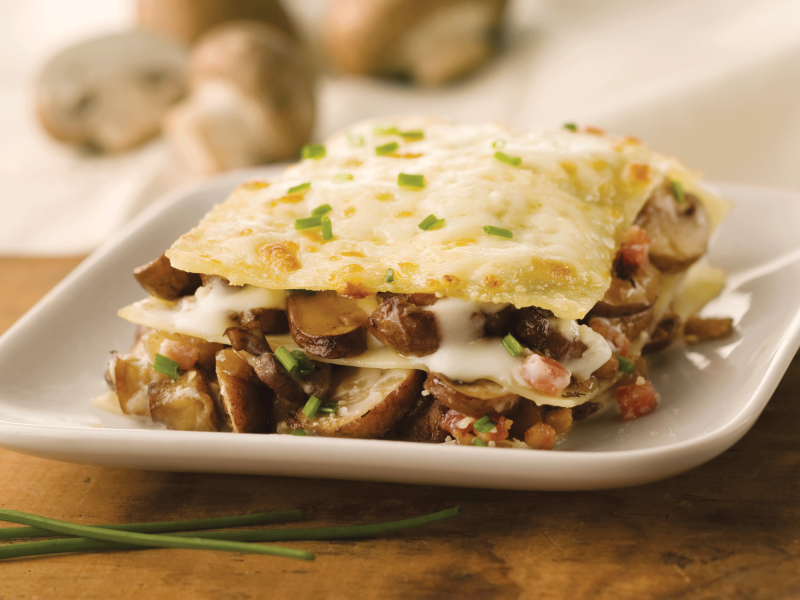 Directions
Smooth Perfect Portobello Lasagna with Parmesan
Everyone is sure to enjoy the taste of this classic Italian dish. The combination of the diced Portobello mushrooms, parmesan cheese, and pancetta is sure to have everyone's taste buds dancing.
Preheat oven to 400 degrees F.
Cook pancetta in a large sauté pan on medium heat in 2 Tbsp. oil until rendered and crispy. Remove the pancetta and reserve this and the oil.
Sauté the portobello and cremini mushrooms in batches until caramelized in the sauté pan on medium high heat with the reserved oil from the pancetta. Remove batches to a plate until all are cooked.
Sauté the shallots and garlic in the sauté pan on medium heat with the remaining olive oil for 4 minutes. Add the cooked mushrooms and white wine and cook on medium high until liquid has evaporated. Toss with chives and pancetta. Season with salt and pepper.
To assemble, spray a 13×9-inch baking dish with cooking spray. Spread 1 1/2 cups béchamel sauce on bottom of pan and top with 4 lasagna noodles.
Top with mushroom mixture. Mix remaining béchamel with 2 eggs. Spread 1/3 of this mixture onto the mushrooms and top with 1/2 cup Parmesan and 1/4 of the mozzarella.
Top with 4 more noodles, remaining mushroom mixture, 1/3 more of béchamel mixture, 1/2 cup Parmesan, and 1/4 of the mozzarella.
Finish with a layer of 4 noodles, and remaining béchamel mixture, Parmesan, and mozzarella.
Cover with parchment and then aluminum foil. Bake for 40 minutes until bubbling slightly. Remove foil and parchment and continue to bake until top is browned, about 10 minutes more. Cool 10 minutes before serving to allow lasagna to set up.
Tips
When cooking the mushrooms, cook until they are tender. If they become too dry, add more oil. The mushrooms should be tossed occasionally to ensure even cooking.
Search among more than 200 recipes!