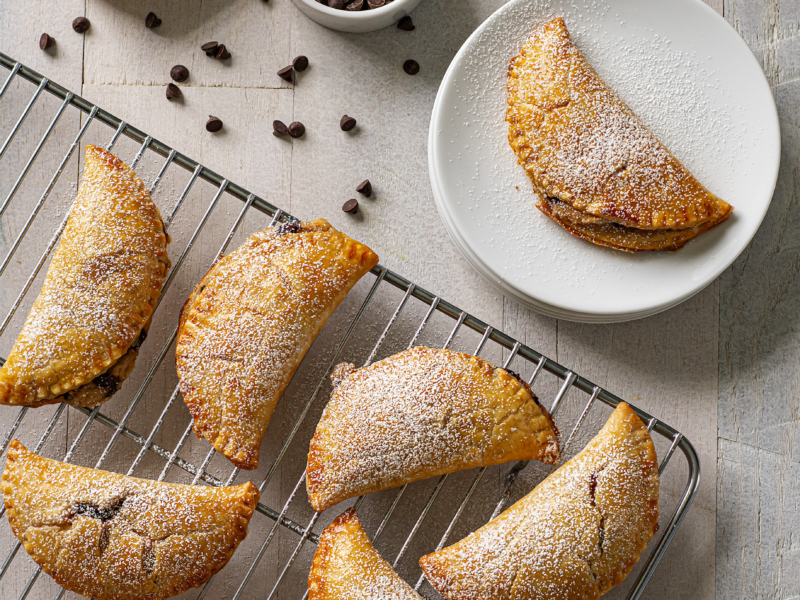 Directions
To make the filling, combine ricotta cheese, sugar, lemon zest, cinnamon, vanilla extract and mini chocolate chips in a small bowl. Set aside.
Lightly flour your work surface. Take each crust and roll out dough until it's about half the original thickness. With a round 4-inch cutter or glass, cut out circles and place on a lined baking sheet.
Lightly brush half of each pastry circle with water. Spoon about 1 heaping tablespoon of filling onto half of pastry and fold over, crimping with a fork to seal. Place pies in the fridge for about 30 minutes.
Meanwhile, heat oven to 375 F. Remove pies from fridge and brush evenly with beaten egg. Cut a small slit on top of each pie to vent.  Bake for about 20 minutes, or until golden brown. Remove and let cool slightly. Dust with powdered sugar and serve warm.
Tips
To make in Air Fryer:
Preheat air fryer to 375 F. Arrange the ricotta pies in the air fryer basket, working in several batches. Air fry the ricotta pies until light golden and crispy, about 15 minutes. Remove and dust with powdered sugar before serving.
Search among more than 200 recipes!