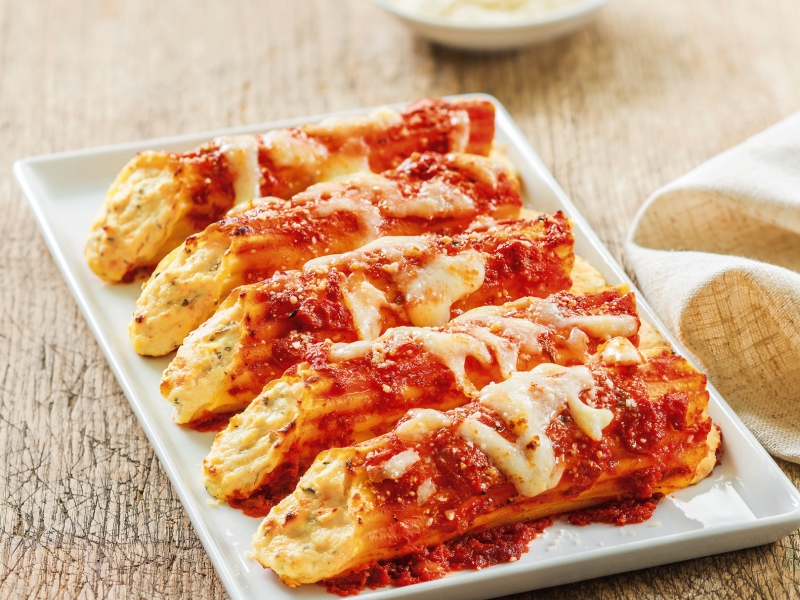 Directions
A Classic Dish That Will Become a Go To Meal
An instant classic that is great for a family dinner or party with others. The bold, rich, flavor from the mozzarella and the smooth, creamy, texture of the ricotta cheese pair perfectly, making this a dish everyone is sure to love.
Preheat oven to 350 degrees F.
Prepare pasta based on package instructions. Drain, separate and set aside.
In a separate bowl, combine the ricotta cheese, half of the mozzarella cheese, Parmesan cheese, eggs and seasonings.
Spread 1 cup sauce each in two ungreased 9×13 inch baking dishes.
Stuff manicotti shells with cheese mixture (fill plastic bag and cut corner off to pipe in cheese mixture); arrange over sauce. Top both dishes with remaining sauce.
Cover and bake at 350 degrees F for 45-50 minutes. Remove from oven, remove foil and sprinkle with remaining cheese.
Return to oven and bake until cheese is melted, about 5-10 minutes.
Tips
Toast some buttered Italian Bread or garlic bread to add some crunch to this dish.
For even more flavor, top the entire pasta with toasted breadcrumbs and put it back in to the oven until the bread crumbs are golden brown. This is the perfect complement to the soft noodles and melted cheese!
Search among more than 200 recipes!