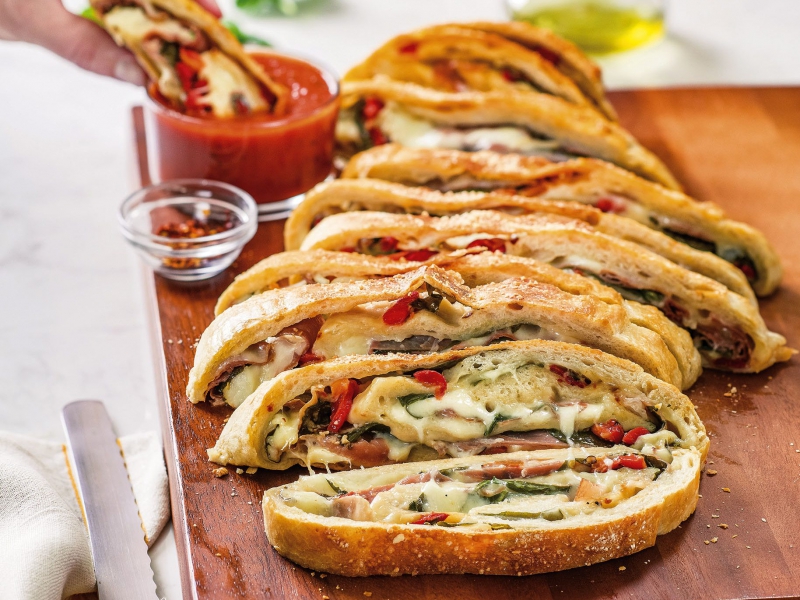 Directions
Bring dough to room temperature in bag, approximately 2 hours. Remove dough from the bag and place on a floured surface. Let sit 5 minutes.
Roll out into long rectangle. Preheat oven to 350 degrees F.
Mix together 2 Tbsp. of olive oil with 1 tsp. minced garlic. Set aside.
In the center of the dough, layer ingredients: 4 oz. Galbani sliced mozzarella cheese, 4 oz. thin sliced Prosciutto, 1 cup of baby spinach leaves, 1/2 of the roasted red pepper slices.
Drizzle with olive oil & garlic mixture. Sprinkle with 1 Tbsp. of Galbani grated Parmesan cheese & half of the crushed red pepper flakes.
Repeat with second half of ingredients.
Roll from narrowest end of dough to widest. Pinch ends and tuck under.
Brush 1 Tbsp. of olive oil over the rolled dough sprinkle with Galbani grated Parmesan.
Line a baking sheet with foil or parchment. Place rolled Stromboli onto a sheet and bake for 45 minutes or until golden brown.
Let it sit for 10-15 minutes to let the interior heat continue to cook from the inside out. Make 1 inch slices through the roll.
Search among more than 200 recipes!