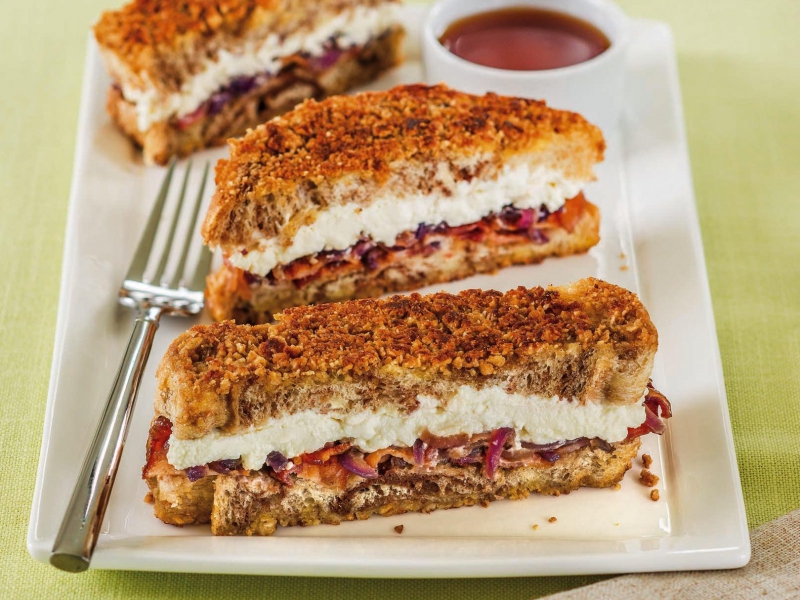 Directions
Whisk eggs with milk and set aside.
Add granola to a bowl and place next to the egg bowl.
Add pancetta to preheated skillet and cook until crisp on medium-high heat. Remove and set aside.
Lay out slices of bread and spread butter on one side of each slice, using 2 Tbsp. butter total. On unbuttered side, spread a thick layer of ricotta.
Top ricotta with onions and pancetta and cover with remaining slice of bread. When closed, dip the entire sandwich in the egg mixture and transfer to the granola to completely coat all sides.
Preheat a nonstick pan and melt 2 Tbsp. butter using low to medium heat. Once butter is melted, add sandwich and cook 90 seconds, pressing down with a spatula. Flip and repeat until crisp. Remove, cut and serve.
Tips
Add a savory side to this sandwich. This can be done by thinly slicing 1/2 of a red onion. Place the chopped onions and 1 Tbsp. of butter into a skillet and cook on medium-low heat. When they start cooking, add in brown sugar and cook until soft. Once done layer on top of ricotta, prior to cooking the sandwich.
Search among more than 200 recipes!