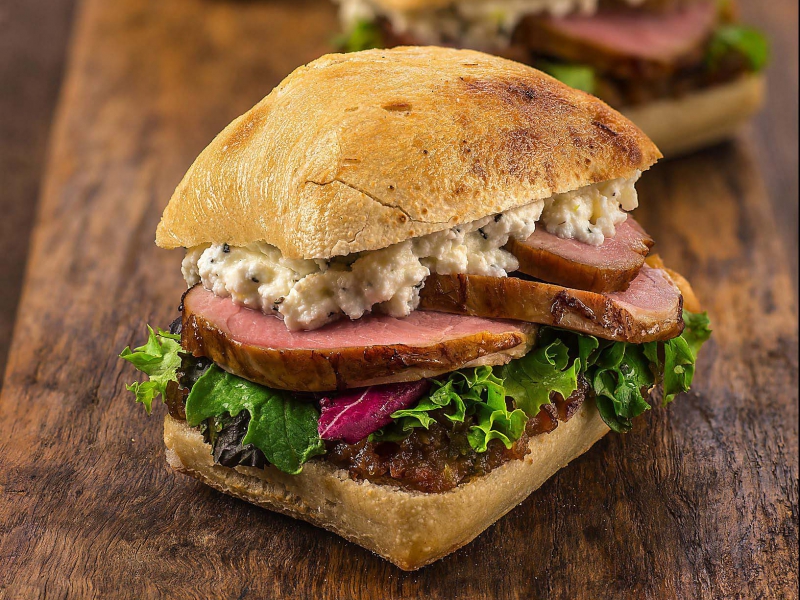 Directions
Marinate pork in 2 oz. brown sugar, Fernet Branca, salt and pepper for at least 30 minutes. While pork marinades, rub jalapenos with olive oil and sprinkle with salt and pepper. Bake peppers at 350 °F for 10 minutes.
Dice apples, toss with salt and pepper and sauté in butter until golden brown. Place half the roasted apples in blender with remaining brown sugar and pulse until the consistency of applesauce.
Take peppers out of the oven, peel the skins, remove the seeds, and place in blender with applesauce, pulsing until smooth. Add remaining apple chunks into sauce and place into fridge to cool.
Fold rosemary into ricotta cheese and place in fridge for 20 minutes. Remove pork from marinade and sear in hot pan with olive oil. When sufficiently browned on all sides, place in 350°F oven for 10-15 minutes. Remove and allow to rest for 10 minutes.
Spread the jalapeno-applesauce on bottom half of roll and the rosemary-ricotta on top half of roll. Top the applesauce with the greens and pork.
Search among more than 200 recipes!