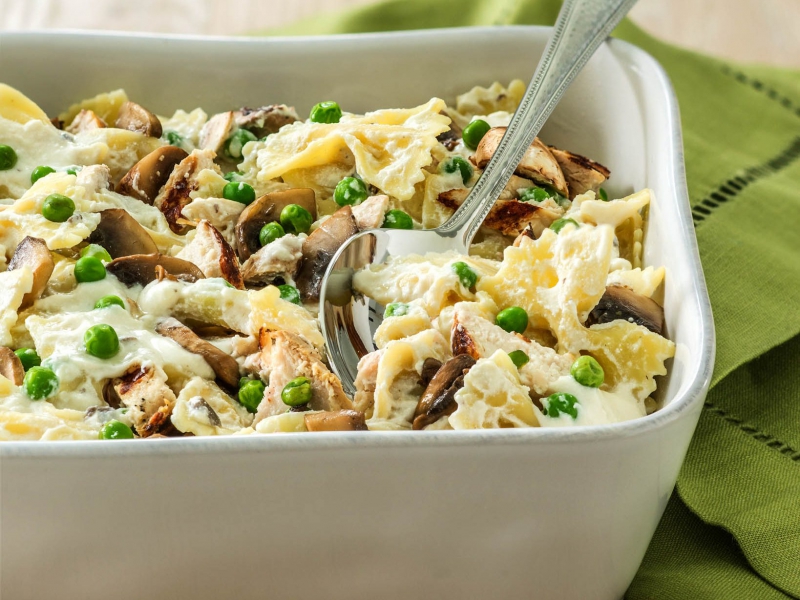 Directions
Quick and Easy Ricotta Pasta Bake
Everyone is sure to enjoy this delicious baked pasta that is bursting with savory flavor. This dish is sure to be an instant classic. Simply mix all the ingredients below, bake and Enjoy!
Preheat oven to 375 degrees F.
Combine ricotta cheese and soup.
Stir in cooked pasta and chicken.
Pour into a casserole that has been sprayed with cooking spray.
Bake for 20-25 minutes until thoroughly heated.
Tips
Add some extra crunch! Top the entire pasta with toasted breadcrumbs and put it back in to the oven for a few minutes to complement the soft noodles and melted cheese with a crisp topping.
Bring out the flavor! Add some Italian Seasoning into the mix to bring out the flavor of the chicken and complement the taste of cream of mushroom soup.
Consider mixing in 1/2 cup frozen peas, 1/2 cup sauteed mushrooms, or sprinkling 1/2 cup shredded mozzarella cheese over top before baking for added flavor.
Substitution: Can of cream of mushroom soup can be swapped out for any creamy soup of your choosing such as cream of chicken or cream of celery.
Search among more than 200 recipes!