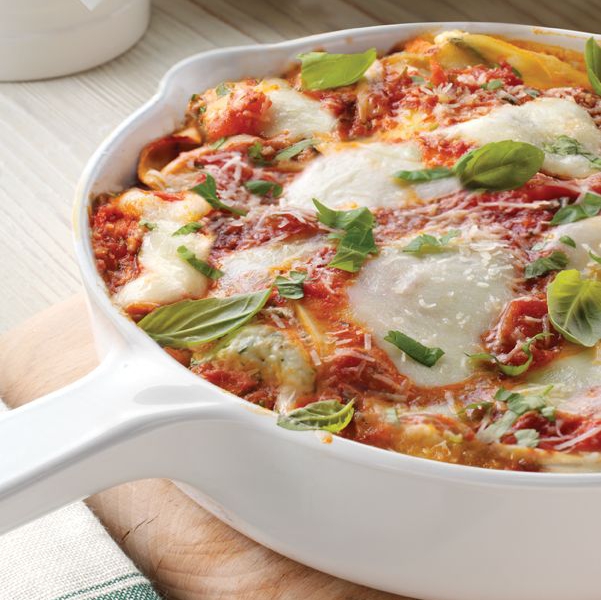 Directions
Preheat oven to 400 degrees F.
Heat the olive oil in a heavy skillet or Dutch oven over medium heat.
Add the sausage, onion, green pepper and cook, stirring occasionally, until the sausage is browned and the vegetables are tender (about 5 to 7 minutes). Drain any excess fat.
Add the garlic and cook until fragrant, about 30 seconds.
Add tomato sauce and water, stirring to combine. Heat through and set aside. In a small bowl combine parsley, oregano, ricotta, egg and 1/4 cup of Parmesan cheese.
Season with salt and pepper, stirring to incorporate.
Spread 1/3 of the sausage sauce on the bottom of a 10-inch ovenproof skillet (non-stick or cast-iron).
Top with 1/4 of the noodles, drop 1/3 of cheese mixture by rounded tablespoons on top of pasta. Repeat and assemble two more layers, ending with noodles and sauce.
Spread thinly sliced mozzarella over the top and sprinkle with remaining Parmesan cheese.
Cover tightly with foil. Bake 35 to 40 minutes. For a crispy top remove foil for the last 5 to 10 minutes.
Let rest 10 minutes before cutting into wedges. Sprinkle with fresh basil leaves and serve.
Search among more than 200 recipes!