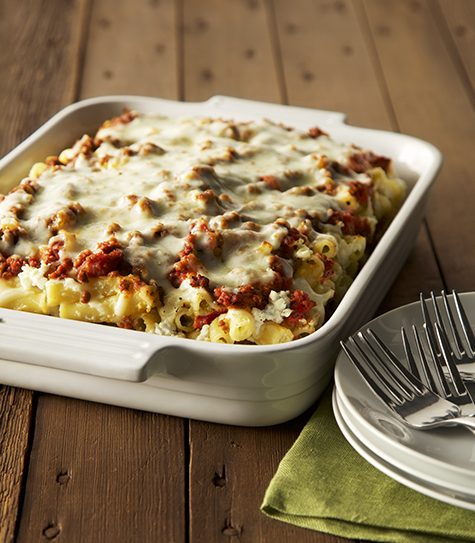 Directions
An All-time Italian Classic Baked Ziti
A classic recipe filled with all the best flavors; that everyone will enjoy.
Preheat oven to 350 degrees F.
Bring a large pot of lightly salted water to a boil. Cook pasta in boiling water according to package directions until al dente. Drain water from pasta.
Heat olive oil over medium heat cooking the onion, basil, and garlic until brown. Remove from pan into small bowl.
Using the same pan, cook ground beef on medium-high heat until evenly brown. Stir in the onion mixture and the tomato sauce. Season with salt. Reduce heat to low, and simmer for 15 minutes.
Mix together ricotta, 1/2 of the mozzarella, 1/2 of the parmesan, and the egg until creamy. Mix in pasta until evenly coated.
Grease a 9x13x3 inch baking dish.
In the prepared dish, begin layering with 1/2 of the pasta mixture, then 1/2 of the meat mixture, followed by the other ½ of the pasta mixture. Next add a layer using remaining ½ of the mozzarella, finish with the remaining meat mixture. Finally top with remaining ½ of the parmesan.
Bake in preheated oven for 30 minutes, or until heated through and cheese is melted.
Tips
Make sure to let it simmer! Let this all-time classic sit and cool for 5-10 minutes, this lets the flavors within the ziti marinate.
Leftovers Taste Better! Heat oil in a frying pan to a medium heat. Place any leftovers into the pan, rotating the slab searing the four sides until there is a slightly crisp crust.
Search among more than 200 recipes!