Chocolate Pistachio Cannoli Lasagna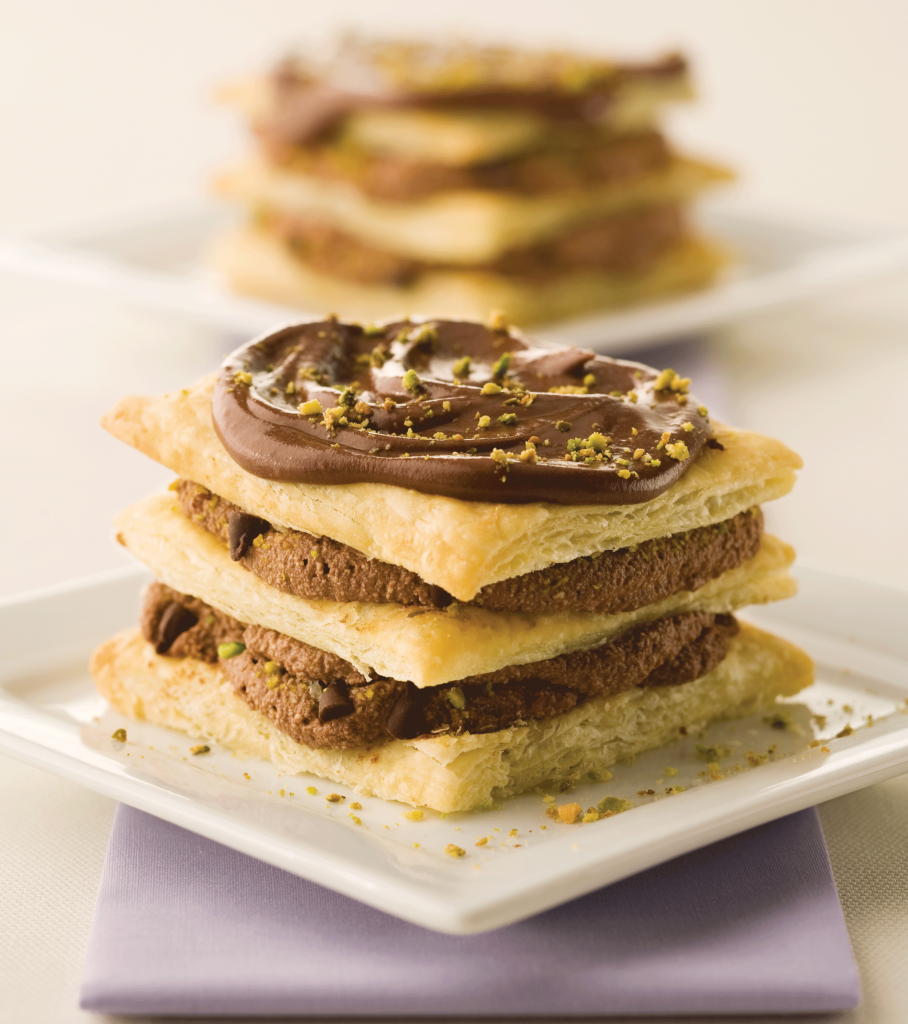 Smooth, Creamy Dessert Lasagna with Crunchy Pistachio
Enjoy a classic Italian Recipe, now as a dessert. The saltiness of the pistachio nuts is a perfect compliment to the smooth taste of the chocolate. Everyone is sure to enjoy this dessert, so be sure to make enough.
Ingredients
8 oz. Galbani® Ricotta
1 pack puff pastry, thawed
1/2 cup chocolate cocoa powder
1/4 cup powdered sugar
1/2 cup mint chocolate chips
1/3 cup pistachios, finely chopped
1/4 cup heavy cream
1/2 cup bittersweet chocolate chips
Directions
Preheat oven to 400 degrees F.
Cut each sheet of puff pastry in half. Reserve one half for later use. Roll out the 3 sheets into 12x8-inch rectangles. Place on parchment lined baking sheet. Cover with another sheet of parchment and top with another baking sheet. This will prevent the puff pastry from rising, thus creating a densely layered, sturdy, crisp pastry.
Bake for 17-20 minutes until pastry is browned and firm, flipping pastry after 12 minutes. Remove from baking sheets to cool for at least 15 minutes.
Mix ricotta, cocoa, and sugar in a small mixing bowl and combine until smooth.
To assemble, trim edges of pastry to identical rectangles with a serrated knife. Place one sheet on baking sheet and top with 1/2 the ricotta mixture. Scatter 1/4 cup mini chips and 1/3 of the pistachios on the ricotta.
Top with one more sheet of pastry, the other half of the ricotta, the rest of the mini chips, and 1/3 of the pistachios. Top with last sheet of pastry.
In a small saucepan, heat cream on medium heat until it starts to boil. Add bittersweet chips and stir to melt.
Pour chocolate mixture over top of pastry and smooth with a spatula. While chocolate is warm, sprinkle the last 1/3 of the pistachios on top. Chill in refrigerator for at least 15 minutes before serving.
Chocolate Pistachio Cannoli Lasagna Tips:
Make this treat even more enjoyable by dusting the top of the lasagna with some confectioner's sugar.