Chicken, Roasted Fennel, and Cauliflower Lasagna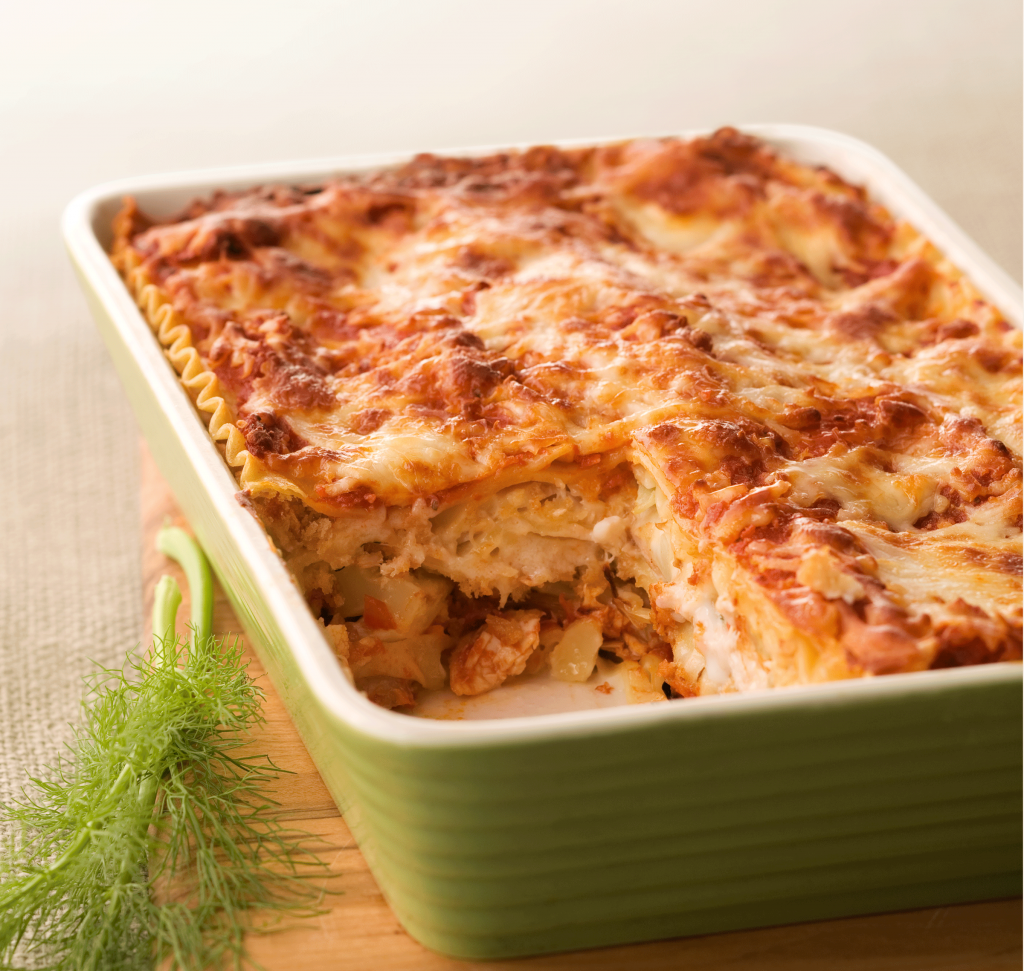 An Incredibly Delicious Lasagna with Zesty Béchamel Sauce and Cauliflower
A different way to make an Italian classic that everyone is guaranteed to enjoy. The chicken and fresh cauliflower is a perfect match for the sweet taste of the roasted fennel.
Ingredients
16 oz. Galbani® Mozzarella, shredded
2 fennel bulbs, cut in 1/4 inch slices
1 cauliflower, cut into florets
2 Tbsp. Extra Virgin Olive Oil
2 cups cooked chicken, torn into bite-size pieces
2 cups basic tomato sauce, divided
2 1/2 cups béchamel sauce, divided
12 sheets lasagna noodles, cook as directed
1 cup bread crumbs, toasted
salt and pepper, to taste
Directions
Preheat oven to 400 degrees F.
Toss fennel and cauliflower with oil in a large mixing bowl, season with salt and pepper. Roast in a single layer on a baking sheet until caramelized, about 30 minutes.
Toss 1/2 of the chicken with 1 cup tomato sauce and the other half of chicken in 1 cup of the béchamel.
Spray a 13x9-inch baking dish with cooking spray. Spread 1 1/2 cups béchamel sauce on the bottom of the dish.
Top with 4 sheets of the lasagna noodles and then the tomato-chicken mixture. Top with 1/2 of the vegetables, 1/2 of the bread crumbs, and 1/4 of the mozzarella.
Continue to layer with 4 more lasagna noodles, the béchamel-chicken mixture, the rest of the vegetables, and bread crumbs, and 1/4 of the mozzarella.
Finish layering with the last 4 noodles, 1 1/2 cups tomato sauce, and the remaining mozzarella.
Cover with parchment and then aluminum foil. Bake for 40 minutes until slightly bubbling. Remove foil and parchment and continue to bake until top is browned, about 10 minutes more. Cool 15 minutes before serving to allow lasagna to set up.
Chicken, Roasted Fennel, and Cauliflower Tips:
To add some crunch to the lasagna add some breadcrumbs after prior to baking for the final 10 minutes. This will add a fantastic crispy coating.