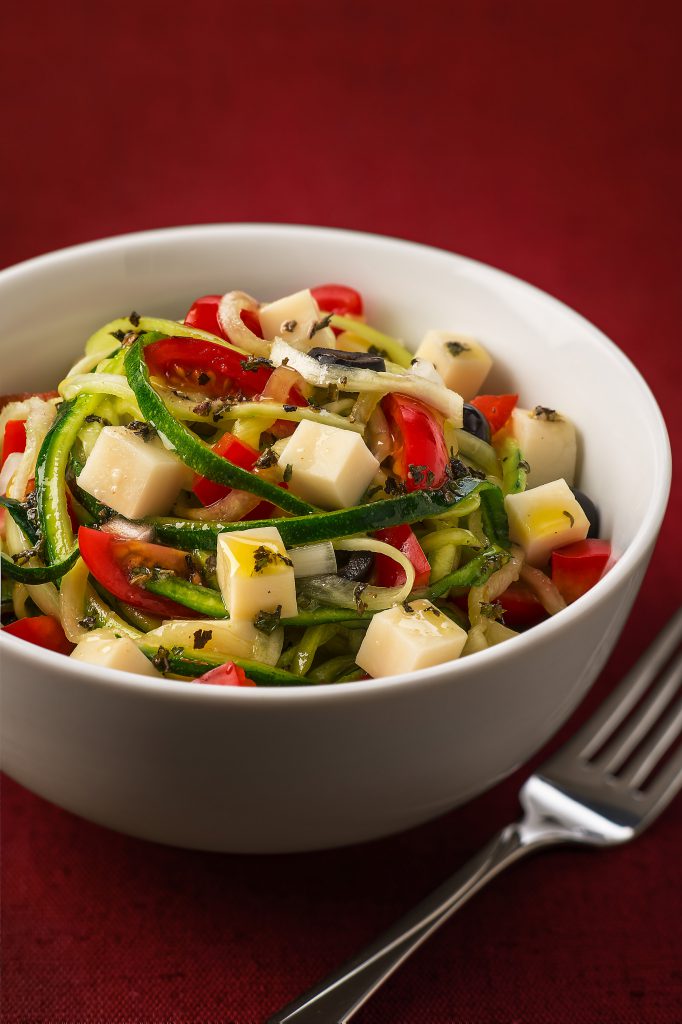 Ingredients
Salad:
8 oz. Galbani® Mozzarella cheese, cubed
2 lb. zucchini, spiralized
3.8 oz. can sliced black olives, drained
8 grape tomatoes, quartered
1/4 small Vidalia onion, chopped
1/2 red bell pepper, chopped
2 garlic cloves, chopped
Salt
Italian Dressing:
1 Tbsp. garlic salt/powder
1 Tbsp. onion powder
2 Tbsp. dried oregano
1 tsp. black pepper
¼ tsp. dried thyme
1 tsp. dried basil
1 Tbsp. dried parsley
¼ tsp. celery salt
2/3 cup extra virgin olive oil
¼ cup white vinegar
Directions
Salad:
Spiralize all of the zucchini. If you don't have a spiralizer, you can use your handy dandy julienne peeler to create zucchini noodles. (Just make sure you wash them first and leave the skin on.) Voila, zoodles*!
Place the spiralized zucchini in a colander and toss with salt until the strands are lightly coated.
Allow zucchini to sit for 20-30 minutes to remove excess water. Rinse with running water, drain well, and pat dry with paper towels. (The salt helps drain water from INSIDE the zoodles, and rinsing with water won't negate that.)
Combine cubed cheese, veggies, and garlic with your zoodles. Finish with homemade Italian dressing. Mix well and serve.
Dressing:
In a small bowl, combine dry ingredients and mix well. Whisk the oil and vinegar, adding in 2 Tbsp. of water along with 2 Tbsp. of the dry mix. Bottle the rest of your dry ingredients for future use.